This article will guide you through the iPhone settings to enable loacation services and remove the permission denial message(s). This will allow you to record with DROWZLE and/or DROWZLE PRO.
Please follow these steps:
1. On your iPhone, locate and click the settings icon (it looks like a cogwheel)

2. Scroll until you find the application. Once you have located it, click the app name
HINT: applications are listed in alphabetical order

3. Under the "Allow To Access" screen, click on Location (which is probably set to Never)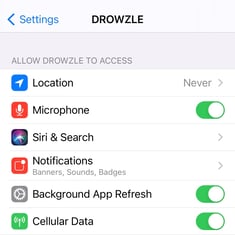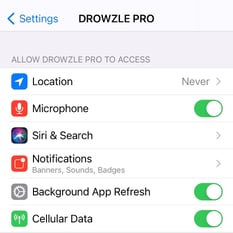 4. Select either Ask Next Time or While Using the App
Ask Next Time means, it will prompt you to allow the app to use your location services
While Using the App means, the app will only be permitted to use your location services while you are using the application
SPECIAL NOTE: DROWZLE needs access to Microphone and to Background App Refresh, so please leave that enabled. The app is designed to fully function on WiFi, however, we do have a setting to allow users to record using their cellular plan if WiFi is not an available option; in that case, we recommend leaving Cellular Data as permitted/enabled in the App Settings.
For reference, only clients that require recording locations will be presented with the DROWZLE location services option. This is, by default, not a client requirement otherwise.
If you need further assistance, please submit a request by clicking the form below:
https://share.hsforms.com/1DOKmraSTQ3ikj3VLxhVeIg2g4vt